Description
SR225e Headphones
 Let your spouse know you honor fidelity, give them a pair of Grado SR225e headphones to enjoy their favorite music the way it was meant to be heard. Our traditional open-back design features enhanced airflow through the rear metal grill, and reproduction that is the definition of high fidelity, with crystal clear spatial placement. Allow yourself to experience true intimacy with your favorite artists.
This headphone has sizable rear air flow through a metal screen, while utilizing Grado's larger ear cushion and closely matched drivers. The result is a broad soundstage free from colorations. The way the SR225e's new driver, cable and plastic housing move air and react to sound vibrations is virtually unaffected by transient distortions. Bass, midrange and treble are all more wide open and you will enjoy the fine tonal spread and balance. The SR225e will produce a sound that is pure Grado, with warm harmonic colors, rich full bodied vocals, excellent dynamics, and an ultra-smooth top end.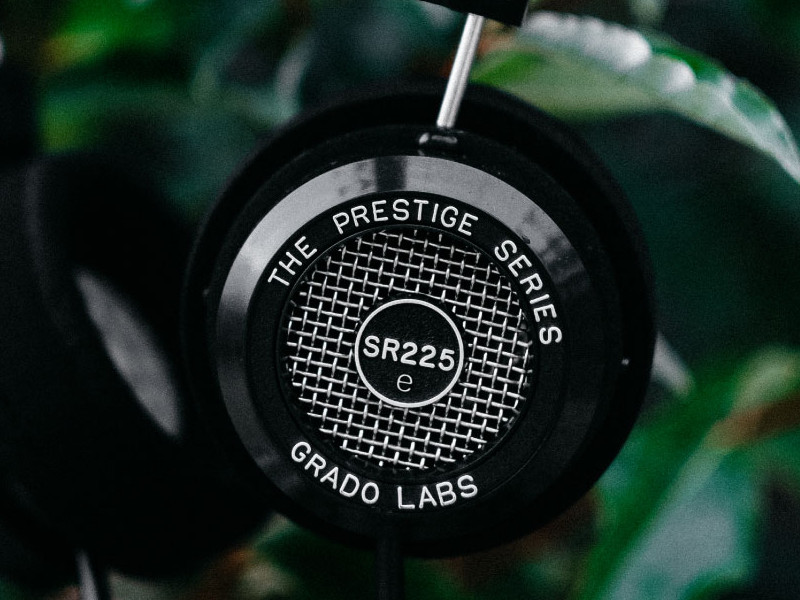 "... What these 'phones do surpassingly well is present each track in its own volume of air so that the character of the voice or instrument is timbrally distinct in the mix. I can almost picture the engineer pushing the fader up to isolate the part I'm focused on. I understand that one part of the Grado magic is building a rigid structure around the dynamic driver to damp resonances "
- Listener Magazine, Lang Phipps
In the box
Headphones
Warranty
Grado story-sheet
6.5 mm Golden Adapter
Specification
Transducer Type:

 

Dynamic
Operating Principle:

 

Open Air
Frequency Response:

 

20 - 22,000 hz
SPL 1mW:

 

99.8 dB
Nominal Impedance:

 

32 ohms
Driver Matched dB:

 

.05 dB
Order and Delivery Information
Thank you for considering Yorkshire AV for your next investment in your AV setup.
We are an approved retailer for all brands sold on our website, which means full manufacturers warranty and support as well as detailed product knowledge within our small business.
We use an inventory tracking system which states if item(s) are in stock and if not, what are the likely lead times.
Selecting "Next Day" delivery does not mean you'll receive your item the next day in some cases. It's the next day from when the item(s) are in stock with us. If there is an urgent need then please contact a member of staff via the Live Chat or telephone (01757 826111) to check on live stock levels.
We do ask for some patience during lockdown - we're working remotely from home and travel to the warehouse each day to fulfil orders. If item's aren't in stock - we can usually get them within a couple of days.
We're a small business that's been impacted massively due to COVID-19 and have such had a significant reduction in orders. We're focussing on core products and services with less frequent products being ordered "on demand".
When will orders be dispatched?
Orders placed Monday - Thursday before 2pm and are in stock will be dispatched the same day for next day delivery. This relates to product that state '

In Stock for immediate dispatch

' on the product page.
Orders placed on after 2pm on Thursday or on Friday will be dispatched for delivery on Monday unless Saturday delivery is selected.
Orders placed over a weekend

and are in stock 

will be dispatched on Monday.
Orders for items not in stock
Given the vast amount of variations of each product (e.g. AudioQuest cables) or Pro-Ject Audio Turntables - we keep the most common options in stock (i.e. gloss black finish, or 1.5m RCA cables) whereas longer cables or cables with terminations that are less frequently ordered will be ordered as required.
Generally speaking - we receive orders within 2-3 days for UK suppliers and 3-4 days for European suppliers (i.e. AudioQuest, DALI).
We want you to be 100% satisfied which is why we'll give you an email/call if item(s) aren't in stock and give you the option of changing the order, cancelling or if you're happy to wait a few days, we'll get it out as soon as possible.
If an item states 'Available to order. Usually dispatched within 48 hours' - this means the item is not in stock but we are able to order in. Lead times average 2 days but in some circumstances, delivery times may be longer and is outside of our control. Please contact us to get an estimate on delivery times if orders are urgent.
Who do you use for delivery?
Our primary delivery agent is DHL. Where orders are shipped directly from Yorkshire AV, we always use DHL who offer a fabulous service at competitive rates.
If we drop ship (i.e. direct from the supplier) then the delivery agent is out of our control. It is generally DPD or UPS however - we rarely see other carriers used.
As always - we welcome a conversation about your requirements and will always explore all options to connect you with the right solution.
Payment & Security
Your payment information is processed securely. We do not store credit card details nor have access to your credit card information.