Description
Airloc ABS 4mm Banana Plug
Pack of 20 (10 red and 10 black)
AIRLOC is QED's award winning loudspeaker cable termination method using specialist equipment.
Put simply, this is the best termination method to use with QED loudspeaker cables. The science  and engineering of loudspeaker cable doesn't stop with the cable..
FEATURES AND BENEFITS
New strengthened plug
The new Forté plug pin section is designed to maximise contact area throughout the wide tolerance range encountered in 4 mm amplifier and speaker sockets. Here, some are quite tight whereas others are loose, so the spring loaded Forté blade is designed to fit into smaller and larger sockets with equal insertion force.
This means that the contact area is maximised and the connection remains uniformly tight.


24k Gold Plated
Plugs are gold plated to eliminate oxidization, ensuring a life-long low resistance connection
24k Gold plated

High copper brass body

AirlocTM

 

cold weld system

Fits 6 mm and 8 mm binding posts

Minimum cable size 0.75 mm2

Maximum cable size 5.5 mm

2Accepts entire QED cable range

Colour-coded ABS barrels

Available in red, black, yellow and blue
WHAT IS AIRLOC™?
Airloc™ is a form of cold weld system that can be used to permanently attach QED Forté™ banana plugs or spade terminals to our entire range of speaker cables.
One of the main reasons for choosing a QED speaker cable is the superior d.c. resistance characteristics offered by our exclusive use of 99.999% oxygen free copper conductors. It seems a shame then to ruin all this attention to detail by neglecting the most vulnerable area of the speaker cable chain - that of the physical interface between cable and amplifier or speaker terminals.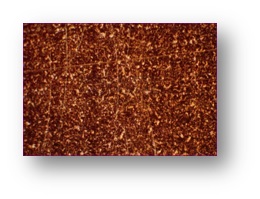 Seen under a microscope the surface of a typical copper strand is very rough and so using normal screw type terminals - as found on binding posts or cheap banana plugs - electrical contact is only made in a relatively small number of places. Add to this a layer of oxidation - which is inevitable if copper is exposed to the air for even a short time - and the combined resistance of the cable and its termination can creep back up to levels present in a more inferior cable.

By using a cold weld crimp type termination Airloc™ plugs squash the conductors and plug together to improve contact area and reduce resistance.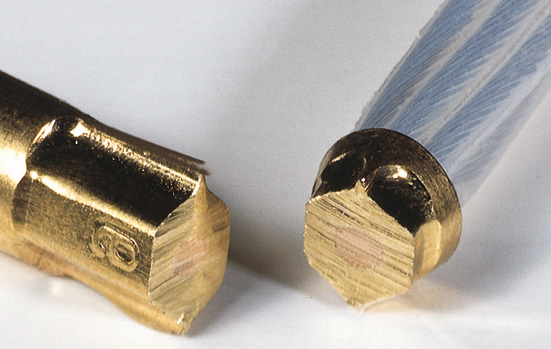 As can be seen in the graph below, by the time the full pressure has been applied the resistance of the joint has reached a minimum value.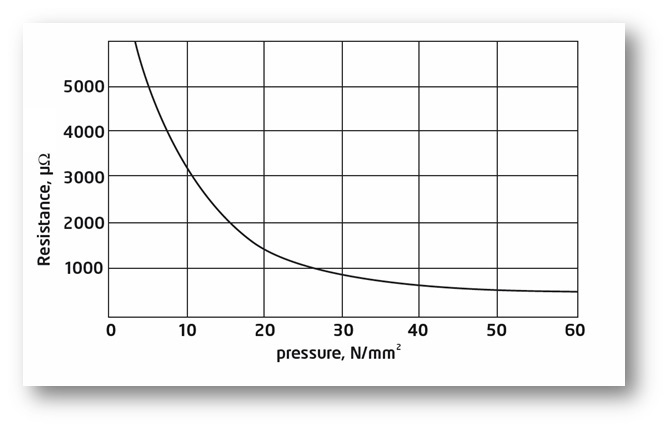 Now, because all the air has been removed from the joint there will be no oxidisation of the contact surfaces so the low resistance will remain for the lifetime of the cable. During the cold weld process the cable and plug become one solid piece of metal.
Order and Delivery Information
Thank you for considering Yorkshire AV for your next investment in your AV setup.
We are an approved retailer for all brands sold on our website, which means full manufacturers warranty and support as well as detailed product knowledge within our small business.
We use an inventory tracking system which states if item(s) are in stock and if not, what are the likely lead times.
Selecting "Next Day" delivery does not mean you'll receive your item the next day in some cases. It's the next day from when the item(s) are in stock with us. If there is an urgent need then please contact a member of staff via the Live Chat or telephone (01757 826111) to check on live stock levels.
Certain product(s) are delayed in manufacturing due to semi-conductor shortages across the Globe. We'll keep you informed as to your order progress and a likely ETA once we get updates from the manufacturers.
When will orders be dispatched?
Orders placed Monday - Thursday before 2pm and are in stock will be dispatched the same day for next day delivery. This relates to product that state '

In Stock for immediate dispatch

' on the product page.
Orders placed on after 2pm on Thursday or on Friday will be dispatched for delivery on Monday unless Saturday delivery is selected.
Orders placed over a weekend

and are in stock 

will be dispatched on Monday.
Orders for items not in stock
Given the vast amount of variations of each product (e.g. AudioQuest cables) or Pro-Ject Audio Turntables - we keep the most common options in stock (i.e. gloss black finish, or 1.5m RCA cables) whereas longer cables or cables with terminations that are less frequently ordered will be ordered as required.
Generally speaking - we receive orders within 2-3 days for UK suppliers and 3-4 days for European suppliers (i.e. AudioQuest, DALI).
We want you to be 100% satisfied which is why we'll give you an email/call if item(s) aren't in stock and give you the option of changing the order, cancelling or if you're happy to wait a few days, we'll get it out as soon as possible.
If an item states 'Available to order' - this means the item is not in stock but we are able to order in. Lead times average 2 days but in some circumstances, delivery times may be longer and is outside of our control. Please contact us to get an estimate on delivery times if orders are urgent.
Who do you use for delivery?
Our primary delivery agent is DHL. Where orders are shipped directly from Yorkshire AV, we always use DHL who offer a fabulous service at competitive rates.
If we drop ship (i.e. direct from the supplier) then the delivery agent is out of our control. It is generally DPD or UPS however - we rarely see other carriers used.
As always - we welcome a conversation about your requirements and will always explore all options to connect you with the right solution.
Payment & Security
Your payment information is processed securely. We do not store credit card details nor have access to your credit card information.