Description
Performance USB A-B Graphite
Performance USB is designed specifically for the transmission of high definition digital audio between USB audio components.
Performance USB cable is designed to transmit high definition digital audio between USB audio components (such as a computer or storage device and a high performance DAC) with very low jitter. At QED we have identified that reducing jitter or timing errors within the digital signal makes for cleaner audio transmission, and with USB this is no different. Triple magnetic screening ensures enhanced signal protection and 24k gold plated connectors for enhanced signal transfer. At QED, we offer a lifetime guarantee on all cables.
FEATURES AND BENEFITS
24k Gold plated shielded connectors
Triple electromagnetic screen

Strict adherence to USB 2.0 specification
Ideal for HD Audio DAC applications up to 24 bit 192kHz
QED Lifetime Guarantee
OVERALL PERFORMANCE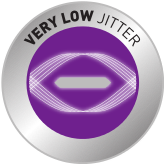 Very Low Jitter
Jitter is the undesired deviation from true periodicity of an assumed periodic signal in electronics and telecommunications, often in relation to a reference clock source. A USB cable displaying very low jitter has been measured at
typically 21 ps rms.
Payment & Security
Your payment information is processed securely. We do not store credit card details nor have access to your credit card information.