Description

Profile J2J
The award winning Profile range presents the Profile Jack to Jack cable. A high performance, flexible connection between portable devices and auxiliary inputs.
A high performance compact and flexible stereo jack to jack cable to connect your mp3 player, personal cd player, pc or any device with 3.5mm stereo jack output to an auxiliary line input. Profile J2J uses the same compact cordage associated with the QED Profile range delivering ultimate flexibility, without compromising quality.
FEATURES AND BENEFITS
Compact Design
Miniature 4 mm outside diameter for high flexibility. Figure of 8 construction. Features a 3.5 mm stereo jack plug at each end

Ultra-flexible 99.999% Oxygen free copper conductors
These provide a low resistance audio path
Stepped Jack Plug
A specially designed stepped 3.5 mm plug which allows the cable to be used when the portable device is protected by an external case
Interference Protection
Shielded for enhanced signal protection again external interference


Compact easy grip connectors

24k Gold plated plugs and miniature connectors to provide ease of installation with slimline equipment
QED Lifetime Guarantee
OVERALL PERFORMANCE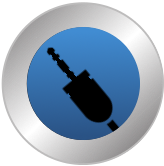 3.5 mm Jack
Jack plug features a stepped profile which means it can be plugged in properly even if the audio equipment is housed in a exterior protective case e.g. iPad, iPhone
Payment & Security
Your payment information is processed securely. We do not store credit card details nor have access to your credit card information.