QED
QED Reference USB A-B Cable (1m - 5m)
Pickup available at The Barn
Usually ready in 24 hours
Shipping & Returns

Thank you for considering Yorkshire AV for your next investment in your AV or HiFi setup.

We are an approved retailer for all brands sold on our website, which means full manufacturers warranty and support as well as detailed product knowledge within our small business.

We use an inventory tracking system which states if item(s) are in stock and if not, what are the likely lead times.

Who do you use for delivery?

Our primary delivery agent is DPD. Where orders are shipped directly from Yorkshire AV, we always use DPD who offer a fabulous service at competitive rates.

If we drop ship (i.e. direct from the supplier) then the delivery agent is out of our control. It is generally DPD or UPS however - we rarely see other carriers used.

Selecting "Next Day" delivery does not mean you'll receive your item the next day in some cases. It's the next day from when the item(s) are in stock with us. If there is an urgent need then please contact a member of staff via the Live Chat or telephone (01757 826111) to check on live stock levels.

Certain product(s) are delayed in manufacturing due to semi-conductor shortages across the Globe. We'll keep you informed as to your order progress and a likely ETA once we get updates from the manufacturers.
Stock Information

When will orders be dispatched?

Orders placed Monday - Thursday before 1pm and are in stock will be dispatched the same day for next day delivery. This relates to product that state 'In Stock for immediate dispatch' on the product page.
Orders placed over a weekend and are in stock will be dispatched on Monday.

Orders for items not in stock

Given the vast amount of variations of each product (e.g. AudioQuest cables) or Pro-Ject Audio Turntables - we keep the most common options in stock (i.e. gloss black finish, or 1.5m RCA cables) whereas longer cables or cables with terminations that are less frequently ordered will be ordered as required.

Generally speaking - we receive orders within 2-3 days for UK suppliers and 3-4 days for European suppliers (i.e. AudioQuest, DALI).

We want you to be 100% satisfied which is why we'll give you an email/call if item(s) aren't in stock and give you the option of changing the order, cancelling or if you're happy to wait a few days, we'll get it out as soon as possible.

If an item states 'Available to Order' - this means the item is not in stock but we are able to order in. Lead times average 2 days but in some circumstances, delivery times may be longer and is outside of our control. Please contact us to get an estimate on delivery times if orders are urgent. 

As always - we welcome a conversation about your requirements and will always explore all options to connect you with the right solution.
Warranty

Warranty

By default, our brands follow their standard manufacturers warranty terms and length.

For extended Warranty (should this be offered with your product), please ensure you complete the Extended Warranty registration form that was emailed to you.

Warranty claims within the warranty period are underpinned by the manufacturer. With any extended warranty claims - Yorkshire AV act as your agent to the authorised repair centre.

Shipping charges are excluded from any warranty claim. Original packaging and receipts must be provided else the claim will be rejected.

For any questions or issues - please contact us directly.

Returns

Standard Returns 

Our returns policy lasts for 28 days for all items in our store except those defined in section (1) below.

To be eligible for a refund, your item must be unused/unopened and in the same condition that you received it. It must also be in the original packaging. If you return the item to us within 14 days of purchasing, you will be offered a full refund or exchange.

If your return comes to us after 14 days of purchasing and is opened, we will refund the full amount less 20%. Unused items returned up to 28 days after purchasing will be fully refunded.

It's the responsibility of the customer to return the items at your cost.

Yorkshire AV are able to arrange collection - please contact us for a quote.

You must ensure goods are shipped in their original packaging if they are damaged/not working.

Manufacturers will not accept returns and Yorkshire AV can not be held responsible for any damage in transit.

Several types of goods are exempt from being returned.

(1) Examples of non-returnable items: 

Gift cards HiFi RacksSecond hand units / clearance products

Headphones (due to listener hygiene)

Custom cables

Special order items (items that we order in for you/were not in stock at the time of order)

To complete your return, we require a receipt or proof of purchase. 

Please do not send your purchase back to the manufacturer. 
Finance

Financing your purchase

We've got you covered, as we have finance options available for people with varying circumstances. Yorkshire AV believes that you shouldn't have to pinch your pockets to be able to purchase our products. You can pay in affordable monthly instalments to better suit your needs and budget.

To help you purchase from Yorkshire AV, we have partnered with Kandoo, a regulated credit broker to offer all our customers a range of highly flexible finance options. Kandoo is a comparison service that searches to find you the best Personal Loan option that's right for you.
Reference USB A-B

Reference USB, the flagship USB cable representing the pinnacle of musical performance
Reference USB cable is designed to transmit high definition digital audio between USB audio components (such as a computer or storage device and a high performance DAC) with ultra low jitter. It utilises a carefully engineered geometry including an integral Ferrite jacket, electrically isolated power conductors and an impedance controlled data lane to reduce timing errors within the digital signal, for cleaner audio transmission.
FEATURES AND BENEFITS
Floating internal ferrite jacket
QED Reference USB features an integral Zn/Mn floating ferrite jacket. When measured using an eye pattern generator at the correct data rate for high bandwidth USB, the cable exhibits 50% less jitter than competitor cables without the ferrite jacket. Our findings indicate that ultra low jitter in an isochronous data stream results in an audible improvement in sound quality. Certainly, in listening tests, the Reference cable with the ferrite jacket was preferred to samples without the jacket.
Just Listen
Five nines oxygen free copper conductors, LDPE dielectrics and legendary build quality combine to create audible sonic improvements. Our extensive listening tests comparing competitor products at much higher price points have astonished us! We urge you to compare Reference USB not only to your current favourite cable but also alternative brands and models at any price!
Impedance Controlled Data Lanes
QED Reference USB uses a tightly controlled 24 AWG 99.999% OFC twisted pair which is bound by an aluminium mylar wrap with a drain wire pulled underneath. This arrangement is identical to that used in our high performance HDMI cables and is not usually found in a USB cable. Because the impedance of the data lane is kept strictly within defined limits, the jitter added to the data stream is kept to a minimum.
Electrically Isolated Power Conductors
Many audio enthusiasts feel that USB power cables carrying charging currents and PC power supply spikes near to the isochronous serial data stream can have an adverse affect on sound quality. One answer is to remove the power cables altogether but this deviates from the USB spec and can cause inconvenience especially if the DAC electronics require USB power. QED Reference data lanes are uniquely electrically isolated by using a double layer shield comprising a 100% aluminium mylar wrap and drain wire connected to ground.
Specifications
99.999% Oxygen Free Copper twisted pair of 24 AWG
Low density Polyethylene (LDPE) high performance dielectric- for sonic purity and low return loss
Dual electromagnetic screen using an aluminium mylar wrap and 99.999% OFC shield braid
Unique inner Zn/Mn impregnated ferrite screen -for advanced signal protection and reduction of unwanted frequency noise components
Ultra Low Jitter design for reduced timing errors
24c Gold plated plugs
QED Lifetime Guarantee
OVERALL PERFORMANCE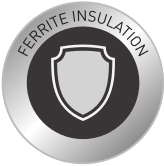 Ferrite Insulation Technology
Like putting wooden wheels on a Ferrari, conventional RCA phono plugs have the potential to undo all of the hard work carried out by our carefully designed cordage. With Anamate and Analoc RCA plugs, the fidelity of the audio signal is maintained form start to finish.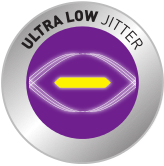 Ultra Low Jitter
Jitter is the undesired deviation from true periodicity of an assumed periodic signal in electronics and telecommunications, often in relation to a reference clock source. A USB cable displaying ultra low jitter has been measured at
typically 12 ps rms.