Q Acoustics
Q Acoustics 5040 floorstanding speakers (pair)
Pickup available at The Barn
Usually ready in 24 hours
Shipping & Returns

Thank you for considering Yorkshire AV for your next investment in your AV or HiFi setup.

We are an approved retailer for all brands sold on our website, which means full manufacturers warranty and support as well as detailed product knowledge within our small business.

We use an inventory tracking system which states if item(s) are in stock and if not, what are the likely lead times.

Who do you use for delivery?

Our primary delivery agent is DPD. Where orders are shipped directly from Yorkshire AV, we always use DPD who offer a fabulous service at competitive rates.

If we drop ship (i.e. direct from the supplier) then the delivery agent is out of our control. It is generally DPD or UPS however - we rarely see other carriers used.

Selecting "Next Day" delivery does not mean you'll receive your item the next day in some cases. It's the next day from when the item(s) are in stock with us. If there is an urgent need then please contact a member of staff via the Live Chat or telephone (01757 826111) to check on live stock levels.

Certain product(s) are delayed in manufacturing due to semi-conductor shortages across the Globe. We'll keep you informed as to your order progress and a likely ETA once we get updates from the manufacturers.
Stock Information

When will orders be dispatched?

Orders placed Monday - Thursday before 1pm and are in stock will be dispatched the same day for next day delivery. This relates to product that state 'In Stock for immediate dispatch' on the product page.
Orders placed over a weekend and are in stock will be dispatched on Monday.

Orders for items not in stock

Given the vast amount of variations of each product (e.g. AudioQuest cables) or Pro-Ject Audio Turntables - we keep the most common options in stock (i.e. gloss black finish, or 1.5m RCA cables) whereas longer cables or cables with terminations that are less frequently ordered will be ordered as required.

Generally speaking - we receive orders within 2-3 days for UK suppliers and 3-4 days for European suppliers (i.e. AudioQuest, DALI).

We want you to be 100% satisfied which is why we'll give you an email/call if item(s) aren't in stock and give you the option of changing the order, cancelling or if you're happy to wait a few days, we'll get it out as soon as possible.

If an item states 'Available to Order' - this means the item is not in stock but we are able to order in. Lead times average 2 days but in some circumstances, delivery times may be longer and is outside of our control. Please contact us to get an estimate on delivery times if orders are urgent. 

As always - we welcome a conversation about your requirements and will always explore all options to connect you with the right solution.
Warranty

Warranty

By default, our brands follow their standard manufacturers warranty terms and length.

For extended Warranty (should this be offered with your product), please ensure you complete the Extended Warranty registration form that was emailed to you.

Warranty claims within the warranty period are underpinned by the manufacturer. With any extended warranty claims - Yorkshire AV act as your agent to the authorised repair centre.

Shipping charges are excluded from any warranty claim. Original packaging and receipts must be provided else the claim will be rejected.

For any questions or issues - please contact us directly.

Returns

Standard Returns 

Our returns policy lasts for 28 days for all items in our store except those defined in section (1) below.

To be eligible for a refund, your item must be unused/unopened and in the same condition that you received it. It must also be in the original packaging. If you return the item to us within 14 days of purchasing, you will be offered a full refund or exchange.

If your return comes to us after 14 days of purchasing and is opened, we will refund the full amount less 20%. Unused items returned up to 28 days after purchasing will be fully refunded.

It's the responsibility of the customer to return the items at your cost.

Yorkshire AV are able to arrange collection - please contact us for a quote.

You must ensure goods are shipped in their original packaging if they are damaged/not working.

Manufacturers will not accept returns and Yorkshire AV can not be held responsible for any damage in transit.

Several types of goods are exempt from being returned.

(1) Examples of non-returnable items: 

Gift cards HiFi RacksSecond hand units / clearance products

Headphones (due to listener hygiene)

Custom cables

Special order items (items that we order in for you/were not in stock at the time of order)

To complete your return, we require a receipt or proof of purchase. 

Please do not send your purchase back to the manufacturer. 
Finance

Financing your purchase

We've got you covered, as we have finance options available for people with varying circumstances. Yorkshire AV believes that you shouldn't have to pinch your pockets to be able to purchase our products. You can pay in affordable monthly instalments to better suit your needs and budget.

To help you purchase from Yorkshire AV, we have partnered with Kandoo, a regulated credit broker to offer all our customers a range of highly flexible finance options. Kandoo is a comparison service that searches to find you the best Personal Loan option that's right for you.
The Q Acoustics 5040 is a notably compact floorstander with a modest footprint - which means it's ideal for those environments where space is at a premium but the desire for full-scale audio excitement (as well a visual gratification) is strong.

Available to demo in store
Brand New Finishes
New with the 5000 series are 4 new finishes: 
Satin Black
Satin White
Santos Rosewood
Holme Oak
Key Features
C3 Continuous Curved ConeTM design in the mid/bass driver ensures smoother high-frequency integration with the tweeter and superior bass dynamics.
Sophisticated, clean and contemporary design with dark acrylic baffle motif mirrors the minimalist C3 Continuous Curved ConeTM profile.
Available in four stylish finishes: Satin Black,Satin White, Santos Rosewood and Holme Oak.
With a design taken from the Concept series but in a new housing, the high-frequency driver is fully hermetically sealed and mechanically isolated from the front baffle to protect from internal cabinet pressure and resonances from the mid/bass driver.
Ground-up mid/bass driver design delivers increased power handling.
Point-2-PointTM (P2P) internal bracing stiffens the cabinet to minimise lower frequency vibrations, while focusing stereo imaging and improving soundstage
Ahead of the curve
The new 5000 series from Q Acoustics is a range of stereo and home cinema loudspeakers that will recalibrate your perceptions of how a speaker can look and sound. By embodying genuine and significant advancement in driver design, the game-changing C3 Continuous Curved Cone™ mid/bass driver elevates the 5000 series beyond any nominal rival. By incorporating the innovative cabinet technology first deployed in the company's flagship Concept range, the 5000 series is as uncompromised on the inside as it is sophisticated and contemporary on the outside

Sophisticated and contemporary design
The reductive nature of the C3 Continuous Curved Cone's™ appearance is also reflected in the 5000 series minimalist design, with its sophisticated but contemporary lines leaning towards the elegant form of the latest Concept speaker series. The baffle fronts are laminated with a layer of butyl rubber and black acrylic trim, not only to provide a damping layer to suppress vibration occurring in the baffle, but to offer an eye-catching counterpoint to the cosmetically clean front presentation uninterrupted by any fixings.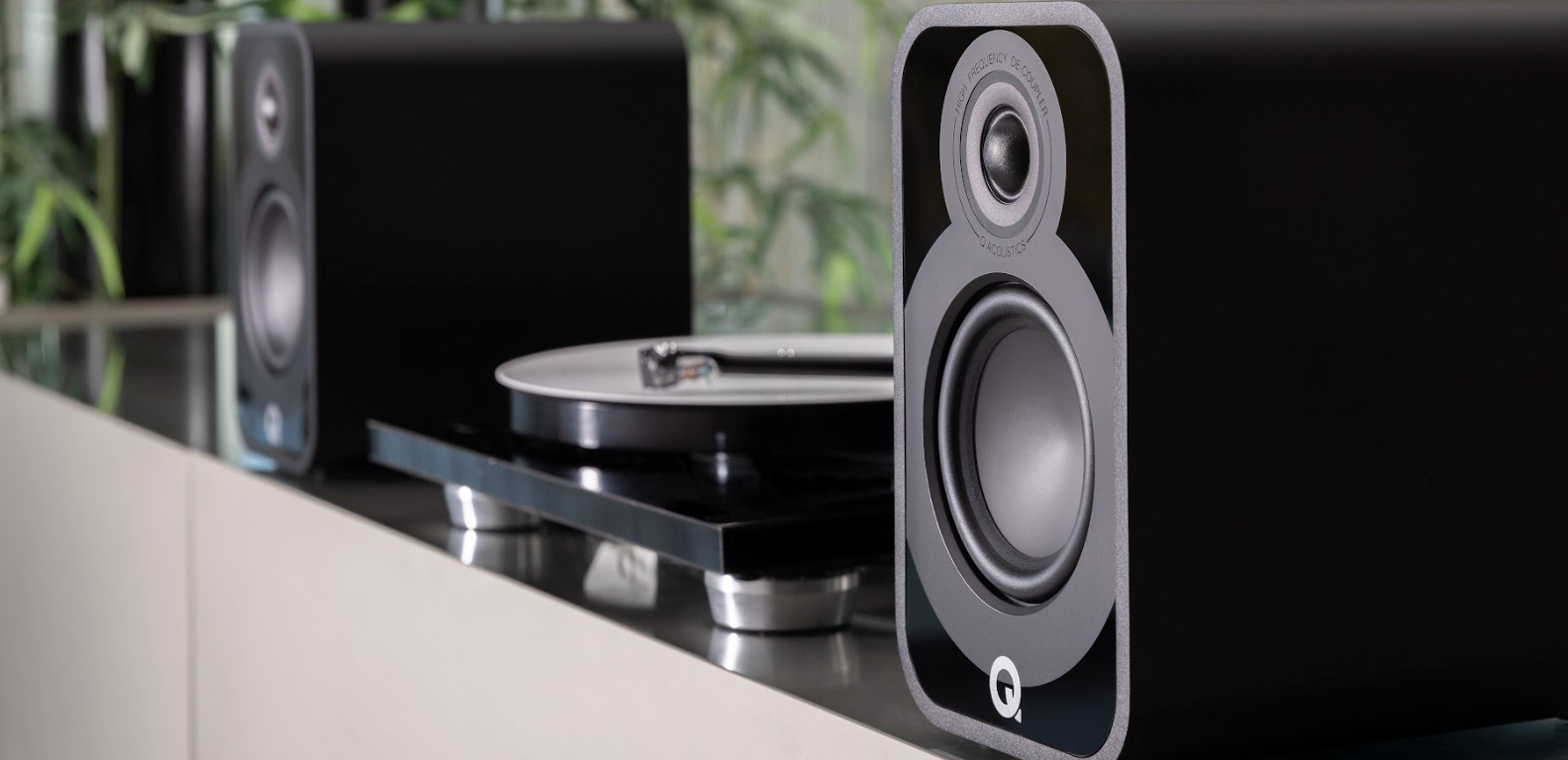 Mid/bass driver design
At the heart of the ground-up mid/bass driver design is the C3 Continuous Curved Cone™. The cone's geometry requires good motor strength for optimal performance. Substantial magnets are coupled to large voice coils to increase motor strength - the result is a 50% increase in power handling and control over a comparable driver with 25.4 mm voice coil. The result is an improvement in the dynamic range of the speaker, especially in the bass region.
High-frequency driver design
Based on the tweeter design principle found in the newest Concept series, the high frequency driver unit is hermetically sealed and mechanically isolated (floating) from the baffle to prevent internal pressure modulations from within the cabinet and adjacent mid/bass driver. The inner chamber is also carefully vented for lower distortion, with a lower crossover point for seamless integration through the crossover region.
C3 Continuous Curved Cone™
A genuine advancement in elements of mid/bass driver design, the C3 Continuous Curved Cone™ profile is the result of extensive research and expert engineering to combine the bass performance benefits of a traditional straight conic cone with the high/mid-range frequency control of a flared cone.
By creating a single, smooth, continuous curve profile, the advantages are clear. Its excellent dispersion, alongside its well-controlled frequency response and reduced harmonic distortion, enables smoother integration with the tweeter. Deep bass dynamics are also superior, with this and tighter, damped low-end sound allowing more flexibility in in placement of speakers near the wall boundaries of the listening room.
P2P™ (Point to Point) bracing
Q Acoustics P2P™ (Point to Point) bracing used throughout the 5000 series supports the parts of the enclosure that need to be stiffened making the new enclosures exceptionally rigid, improving the focus of the stereo image and giving the soundstage more accuracy than ever before.
HPE™ (Helmholtz Pressure Equalizer)
HPE™ (Helmholtz Pressure Equalizer) technology designed to convert pressure to velocity and reduce the overall pressure gradient within the speaker enclosure, has been applied to the 5050 floorstanding speakers only to reduce cabinet resonance. This technology is perfect for taller loudspeakers that tend to resonate at a single favoured frequency.
Specifications
Bass unit2 x 125 mm (5.0 in)
Treble unit1 x 25 mm (1.0 in)
Frequency response(-6dB)39 Hz - 30 kHz
Nominal impedance

 

6 Ω
Minimum impedance3.0 Ω
Sensitivity (2.83V @ 1kHz)91.5 dB/w/m
Recommended amplifier power25-150 W
Crossover frequency2.5 kHzz
Effective volume27 L
Dimensions (per loudspeaker / HxWxD)Inc spikes and stabiliser: 967 x 361 x 293 mm (38.1 x 14.2 x 11.5 in)
Weight (per loudspeaker)18.0 kg (39.7 lbs)