Luxman
Luxman D-07X Super Audio CD Player
Pickup available at The Barn
Usually ready in 24 hours
Shipping & Returns

Thank you for considering Yorkshire AV for your next investment in your AV or HiFi setup.

We are an approved retailer for all brands sold on our website, which means full manufacturers warranty and support as well as detailed product knowledge within our small business.

We use an inventory tracking system which states if item(s) are in stock and if not, what are the likely lead times.

Who do you use for delivery?

Our primary delivery agent is DPD. Where orders are shipped directly from Yorkshire AV, we always use DPD who offer a fabulous service at competitive rates.

If we drop ship (i.e. direct from the supplier) then the delivery agent is out of our control. It is generally DPD or UPS however - we rarely see other carriers used.

Selecting "Next Day" delivery does not mean you'll receive your item the next day in some cases. It's the next day from when the item(s) are in stock with us. If there is an urgent need then please contact a member of staff via the Live Chat or telephone (01757 826111) to check on live stock levels.

Certain product(s) are delayed in manufacturing due to semi-conductor shortages across the Globe. We'll keep you informed as to your order progress and a likely ETA once we get updates from the manufacturers.
Stock Information

When will orders be dispatched?

Orders placed Monday - Thursday before 1pm and are in stock will be dispatched the same day for next day delivery. This relates to product that state 'In Stock for immediate dispatch' on the product page.
Orders placed over a weekend and are in stock will be dispatched on Monday.

Orders for items not in stock

Given the vast amount of variations of each product (e.g. AudioQuest cables) or Pro-Ject Audio Turntables - we keep the most common options in stock (i.e. gloss black finish, or 1.5m RCA cables) whereas longer cables or cables with terminations that are less frequently ordered will be ordered as required.

Generally speaking - we receive orders within 2-3 days for UK suppliers and 3-4 days for European suppliers (i.e. AudioQuest, DALI).

We want you to be 100% satisfied which is why we'll give you an email/call if item(s) aren't in stock and give you the option of changing the order, cancelling or if you're happy to wait a few days, we'll get it out as soon as possible.

If an item states 'Available to Order' - this means the item is not in stock but we are able to order in. Lead times average 2 days but in some circumstances, delivery times may be longer and is outside of our control. Please contact us to get an estimate on delivery times if orders are urgent. 

As always - we welcome a conversation about your requirements and will always explore all options to connect you with the right solution.
Warranty

Warranty

By default, our brands follow their standard manufacturers warranty terms and length.

For extended Warranty (should this be offered with your product), please ensure you complete the Extended Warranty registration form that was emailed to you.

Warranty claims within the warranty period are underpinned by the manufacturer. With any extended warranty claims - Yorkshire AV act as your agent to the authorised repair centre.

Shipping charges are excluded from any warranty claim. Original packaging and receipts must be provided else the claim will be rejected.

For any questions or issues - please contact us directly.

Returns

Standard Returns 

Our returns policy lasts for 28 days for all items in our store except those defined in section (1) below.

To be eligible for a refund, your item must be unused/unopened and in the same condition that you received it. It must also be in the original packaging. If you return the item to us within 14 days of purchasing, you will be offered a full refund or exchange.

If your return comes to us after 14 days of purchasing and is opened, we will refund the full amount less 20%. Unused items returned up to 28 days after purchasing will be fully refunded.

It's the responsibility of the customer to return the items at your cost.

Yorkshire AV are able to arrange collection - please contact us for a quote.

You must ensure goods are shipped in their original packaging if they are damaged/not working.

Manufacturers will not accept returns and Yorkshire AV can not be held responsible for any damage in transit.

Several types of goods are exempt from being returned.

(1) Examples of non-returnable items: 

Gift cards HiFi RacksSecond hand units / clearance products

Headphones (due to listener hygiene)

Custom cables

Special order items (items that we order in for you/were not in stock at the time of order)

To complete your return, we require a receipt or proof of purchase. 

Please do not send your purchase back to the manufacturer. 
Finance

Financing your purchase

We've got you covered, as we have finance options available for people with varying circumstances. Yorkshire AV believes that you shouldn't have to pinch your pockets to be able to purchase our products. You can pay in affordable monthly instalments to better suit your needs and budget.

To help you purchase from Yorkshire AV, we have partnered with Kandoo, a regulated credit broker to offer all our customers a range of highly flexible finance options. Kandoo is a comparison service that searches to find you the best Personal Loan option that's right for you.
Pre-Order now - stock expected towards the end of April (approx 28th).
Pay now and we'll ship as soon as stock is received.
Inheriting LUXMAN's outstanding flagship pedigree A new class of digital media player
Many of the audio formats available today are undergoing a transformational period. By providing digital circuitry that supports advanced, high resolution file formats and the latest DAC environment, this model brings out unprecedented excitement from CDs and SACDs, which are still in an important position as audio media. The D-07X inherits the luxurious styling and outstanding performance our flagship model, the D-10X. This advanced digital media player delivers overwhelming performance. It truly conveys the ambience and feeling of recorded music over a wide range of media, delivering the finest listening experience.
Advanced DAC circuitry, reproducing digital media with excellent sound quality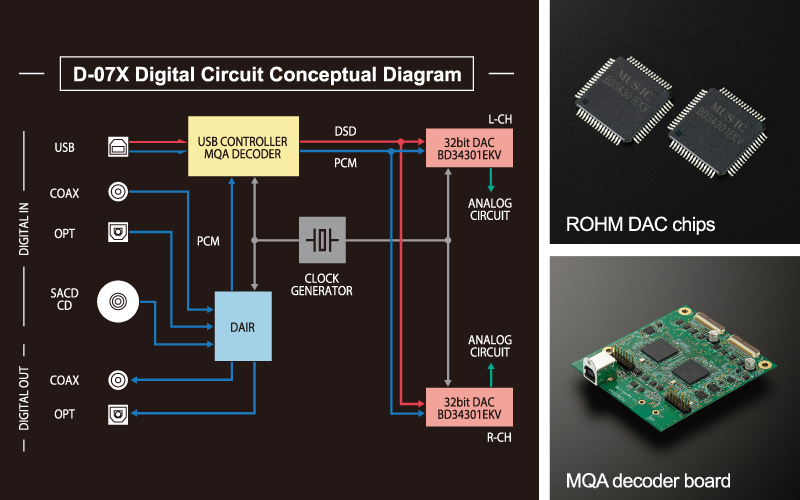 Following standards set by our D-10X flagship model, high-end BD34301EKV DAC chips manufactured by Rohm Co., Ltd. in dual monaural configuration lie at the core of the digital circuitry that processes various digital media from discs, such as CDs and SACDs, to the latest high resolution audio files with exceptional quality. Over a USB input from a PC, Mac, NAS for audio, etc., the D-07X supports a wide range of format encoding up to PCM768kHz/32 bit and DSD22.4MHz. Bulk Pet transfer, which equalizes transmission load, can also be selected by using our dedicated driver software. Furthermore, for the popular high-quality format MQA (MQA-CD/MQA file), which expands the field of optical discs, streaming USB, COAX, and optical. The clocking system is designed to support accurate digital signal processing and is equipped with two high-precision, low-jitter, ultra-low phase noise modules that reduce noise near the oscillation frequency to a minimum. There is also a built-in, 2-mode analog FIR filter that allows you to select your preferred sound quality when playing SACD or DSD files.
Highly robust LxDTM-i drive mechanism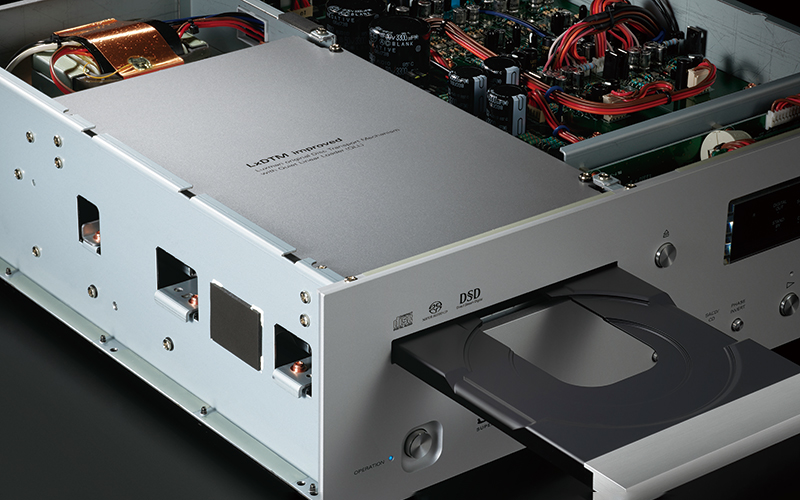 The D-07X employs a left-side mechanical layout with an asymmetric configuration that realizes the shortest and ideal audio signal path and affords space for high quality analog circuitry. The disc drive section that supports CD and SACD playback is based on our original, highly robust LxDTM mechanism, which features a robust box structure that covers the entire mechanism with a side frame and top plate. Our LxDTM-i* system has evolved into an integrated structure that firmly blocks external vibration by being mounted directly onto the strong chassis side panel, achieving high precision and stable signal reading performance, comparable to our D-10X flagship model. The disc tray is made of die-cast aluminum, eliminating unnecessary vibration and resonance effects on the loader mechanism and enabling precise and smooth loading operation.
*LxDTM-i is an abbreviation for Luxman original Disc Transport Mechanism-improved, which realizes stable signal reading and mechanical integrity.
Newly developed discrete buffer circuitry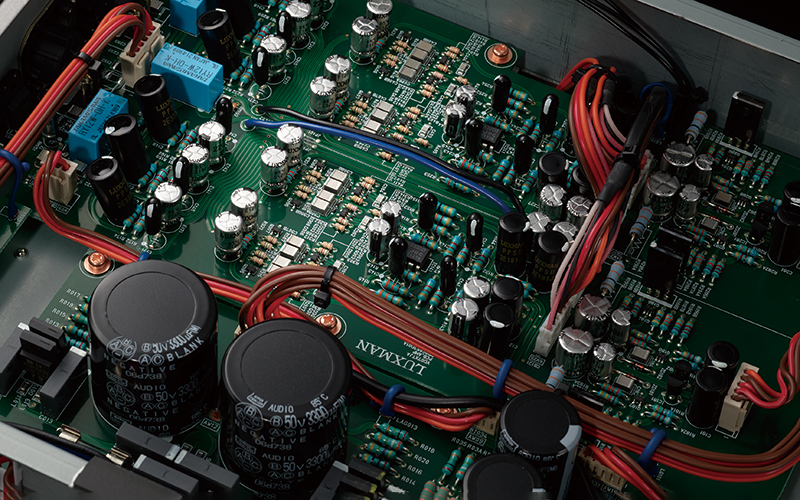 As a component that handles digital sources, high-precision signal reading by the drive mechanism and advanced digital signal processing are very important, but it goes without saying that the high performance analog output circuitry which determines the final audio quality is the most important factor in realizing that deep musical expression expected from high-end components designed by LUXMAN. The D-07X has a newly developed I/V conversion system that receives the differential outputs of the paired BD34301EKV DAC chips, operating in monaural mode, and feeds four discrete, perfectly matched amplifier modules. High-quality buffer circuitry lowers the impedance of the output signal. The unit powerfully drives any integrated amplifier or control amplifier that would be the next stage component. Out-of-audible-range filtering, which is essential for digital players, is performed in the buffer stage instead of having an independent LPF stage, enabling the reproduction of natural and smooth analog waveforms, resulting in higher clarity and more immediate sound quality.
Display with excellent visibility
The FL display with excellent visibility that shines on the delicate panel of blaster white finish is equipped with a 4x zoom display mode that is easy to see even from a distance. When playing the MQA format, the decoding status (Studio: Blue, Authentic: Green, Renderer: Magenta) is displayed by a three-color LED indicator.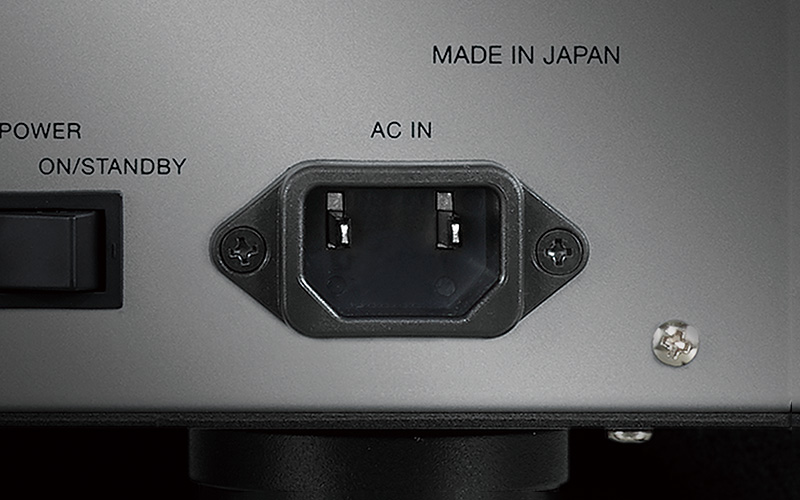 AC inlet and power cable
The AC inlet's structure has been improved to support the weight of heavy power cables by reversing the mounting, suppressing any movement of the power cable while maintaining a stable grip.
Supported discsm
SACD, CD (CD-R, CD-RW, MQA-CD)
Supported sampling
frequencies
USB input (PCM) : 44.1 kHz, 48 kHz, 88.2 kHz, 96 kHz, 176.4 kHz, 192 kHz, 352.8 kHz, 384 kHz, 705.6 kHz, 768 kHz (16, 24, 32-bit)
USB input (DSD) : 2.8 MHz, 5.6 MHz, 11.2 MHz, 22.4 MHz (1-bit)
Coaxial / Optical input : 44.1 kHz, 48 kHz, 88.2 kHz, 96 kHz, 176.4 kHz, 192 kHz (16, 20, 24-bit)
Analog output voltage /
impedance
Unbalanced : 2.4 V / 300 Ω, Balanced : 2.4 V / 600 Ω
For SACD / DSD : 2.3 V
Frequency response
CD : 5 Hz to 20 kHz (+0, -1.0 dB)
SACD : 5 Hz to 38 kHz (+0, -3.0 dB)
USB : 5 Hz to 47 kHz (+0, -3.0 dB)
Total harmonic distortion
CD : 0.0016 %, SACD : 0.0007 %, USB : 0.001 %
S/N ratio (IHF-A)
CD : 122 dB, SACD : 125 dB, USB : 122 dB
D/A converter
ROHM BD34301EKV (monaural mode) x 2
Power supply
230 V~(50 Hz) / 115 V~ (60 Hz)
Power consumption
37W
Dimensions
440(W) x 132(H) x 410(D) mm
front side knob of 2 mm and rear side terminal of 8 mm included in depth
Net weight
17.0 kg
Accessories
Remote control (RD-29), Power cable
*1 Pressing the phase invert button allows balance output terminal No.2 to change HOT, and No.3 to COLD.
*LUXMAN Audio Player (Windows 10 or newer / macOS 10.15 or newer) and driver software for Windows can be downloaded from the our website.
*Apple Mac, Mac OS, OS X, macOS and Macintosh are trademarks of Apple Inc., registered in the U.S. and other countries.
*Microsoft and Windows is a registered trademark of Microsoft Corporation in the U.S. and other countries.
*MQA is a registered trade marks of MQA Limited.(c) 2018 *MQA-CD is a registered trade mark of MQA Limited.(c) 2017
*Bulk Pet is a registered trademark of Interface Co., Ltd.