Luxman
Pickup available at The Barn
Usually ready in 24 hours
Shipping & Returns

Thank you for considering Yorkshire AV for your next investment in your AV or HiFi setup.

We are an approved retailer for all brands sold on our website, which means full manufacturers warranty and support as well as detailed product knowledge within our small business.

We use an inventory tracking system which states if item(s) are in stock and if not, what are the likely lead times.

Who do you use for delivery?

Our primary delivery agent is DPD. Where orders are shipped directly from Yorkshire AV, we always use DPD who offer a fabulous service at competitive rates.

If we drop ship (i.e. direct from the supplier) then the delivery agent is out of our control. It is generally DPD or UPS however - we rarely see other carriers used.

Selecting "Next Day" delivery does not mean you'll receive your item the next day in some cases. It's the next day from when the item(s) are in stock with us. If there is an urgent need then please contact a member of staff via the Live Chat or telephone (01757 826111) to check on live stock levels.

Certain product(s) are delayed in manufacturing due to semi-conductor shortages across the Globe. We'll keep you informed as to your order progress and a likely ETA once we get updates from the manufacturers.
Stock Information

When will orders be dispatched?

Orders placed Monday - Thursday before 1pm and are in stock will be dispatched the same day for next day delivery. This relates to product that state 'In Stock for immediate dispatch' on the product page.
Orders placed over a weekend and are in stock will be dispatched on Monday.

Orders for items not in stock

Given the vast amount of variations of each product (e.g. AudioQuest cables) or Pro-Ject Audio Turntables - we keep the most common options in stock (i.e. gloss black finish, or 1.5m RCA cables) whereas longer cables or cables with terminations that are less frequently ordered will be ordered as required.

Generally speaking - we receive orders within 2-3 days for UK suppliers and 3-4 days for European suppliers (i.e. AudioQuest, DALI).

We want you to be 100% satisfied which is why we'll give you an email/call if item(s) aren't in stock and give you the option of changing the order, cancelling or if you're happy to wait a few days, we'll get it out as soon as possible.

If an item states 'Available to Order' - this means the item is not in stock but we are able to order in. Lead times average 2 days but in some circumstances, delivery times may be longer and is outside of our control. Please contact us to get an estimate on delivery times if orders are urgent. 

As always - we welcome a conversation about your requirements and will always explore all options to connect you with the right solution.
Warranty

Warranty

By default, our brands follow their standard manufacturers warranty terms and length.

For extended Warranty (should this be offered with your product), please ensure you complete the Extended Warranty registration form that was emailed to you.

Warranty claims within the warranty period are underpinned by the manufacturer. With any extended warranty claims - Yorkshire AV act as your agent to the authorised repair centre.

Shipping charges are excluded from any warranty claim. Original packaging and receipts must be provided else the claim will be rejected.

For any questions or issues - please contact us directly.

Returns

Standard Returns 

Our returns policy lasts for 28 days for all items in our store except those defined in section (1) below.

To be eligible for a refund, your item must be unused/unopened and in the same condition that you received it. It must also be in the original packaging. If you return the item to us within 14 days of purchasing, you will be offered a full refund or exchange.

If your return comes to us after 14 days of purchasing and is opened, we will refund the full amount less 20%. Unused items returned up to 28 days after purchasing will be fully refunded.

It's the responsibility of the customer to return the items at your cost.

Yorkshire AV are able to arrange collection - please contact us for a quote.

You must ensure goods are shipped in their original packaging if they are damaged/not working.

Manufacturers will not accept returns and Yorkshire AV can not be held responsible for any damage in transit.

Several types of goods are exempt from being returned.

(1) Examples of non-returnable items: 

Gift cards HiFi RacksSecond hand units / clearance products

Headphones (due to listener hygiene)

Custom cables

Special order items (items that we order in for you/were not in stock at the time of order)

To complete your return, we require a receipt or proof of purchase. 

Please do not send your purchase back to the manufacturer. 
Finance

Financing your purchase

We've got you covered, as we have finance options available for people with varying circumstances. Yorkshire AV believes that you shouldn't have to pinch your pockets to be able to purchase our products. You can pay in affordable monthly instalments to better suit your needs and budget.

To help you purchase from Yorkshire AV, we have partnered with Kandoo, a regulated credit broker to offer all our customers a range of highly flexible finance options. Kandoo is a comparison service that searches to find you the best Personal Loan option that's right for you.
New at Yorkshire AV - the brand new Luxman L-507Z integrated amplifier

Demo in store today.
Luxman will celebrate our 100th anniversary in 2025 and we are proud to announce the successor to our ODNF* feedback circuitry, which has contributed to the audio quality of our amplifier products since 1999.
We have developed a new amplifier feedback circuit, LIFES*, which has acquired realistic, fresh and rich musicality and overwhelming audio performance. LIFES is based on the technical concept of our epoch-making ODNF circuit and realizes excellent, dynamic characteristics without feeding back any of the original audio input signal to the main amplifier, achieving a remarkably natural sound quality, almost if it were a non-feedback equipped circuit.
The design has been conceived and expanded upon from first principles using simulation technology and painstaking research. By repeatedly auditioning, rigorously scrutinizing and combining specially selected components, we have achieved supreme performance characteristics and a level of quality suitable for use in Luxman's next-generation products. In producing LIFES Version 1.0, by carefully reimagining the entire circuit, we succeeded in reducing the number of paralleled elements while improving performance.
The distortion in the amplification stage has been reduced to less than half of our previous system. The output stage features a 3-stage Darlington triple-paralleled push-pull configuration and achieves a class AB power output of 110W+110W (8Ω) and 210W+210W (4Ω). The high output power, comparable to that of a separate power amplifier, effortlessly realizes a natural soundstage, full of energy, to confidently drive any compatible speaker system, and bring out the best of its characteristics.
*ODNF stands for "Only Distortion Negative Feedback".
*LIFES stands for "Luxman Integrated Feedback Engine System".
Large needle VU level meter and 7-segment LED
Needle-type analog VU meters are a symbolic design statement of Luxman's solid state integrated amplifiers. The L-507Z is equipped with a large dual meter with bright LED back-lighting and high response characteristics. We have adopted such a display so the movement of the needles synchronizes with the dynamics of your music. In addition, newly included 7-segment LEDs display the attenuation level in between the left and right level meters so that the current attenuation amount can be easily seen from the listening position. The level meter back-lighting and LED display can be turned on and off using the remote control.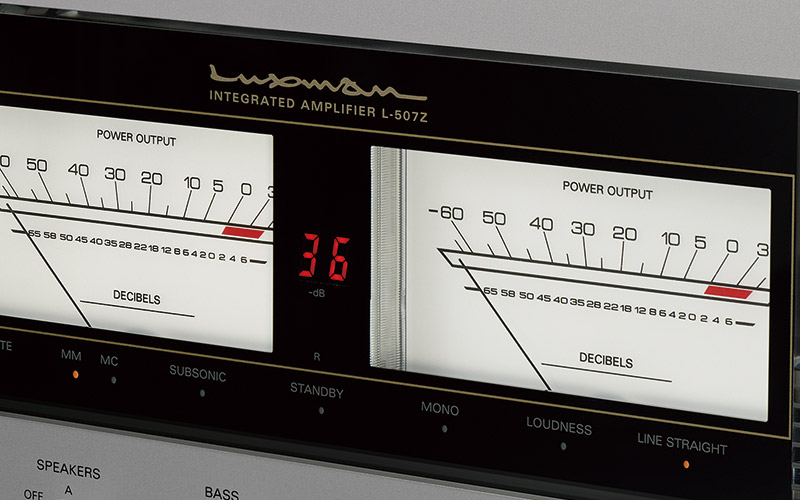 Precision hairline finished aluminum top panel
The rectangular chassis housing design features an ultra-thick front panel with a high-quality, blasted white finish. This has become a brand identifier of current Luxman products, with a delicate hairline finished aluminum top panel, a luxurious exterior design adopted for our high-grade amplifiers. The large ventilation slots on the top panel provide sufficient air flow and the entire chassis housing is fabricated from aluminum panels, providing excellent heat dissipation, ensuring the stable operation of this product.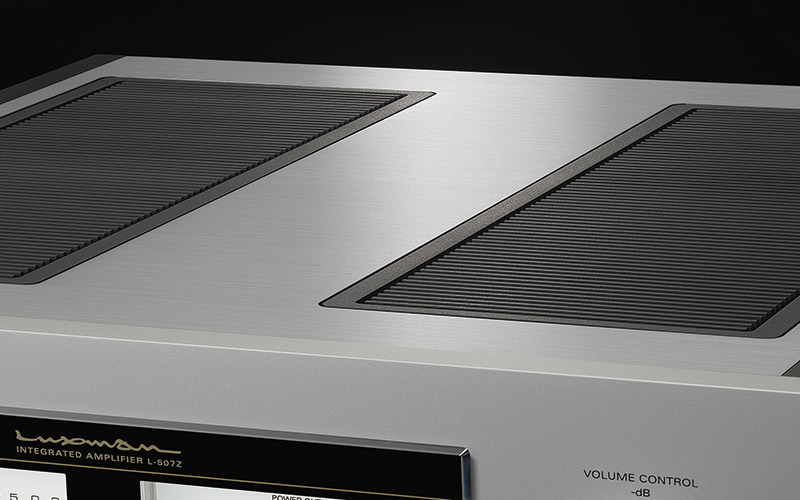 New LECUA1000
Luxman's New LECUA1000 88-step, electronically controlled attenuator is integrated into the amplifier circuit minimizing sound quality degradation over the full range of volume control. The output section of the preamplifier is equipped with discrete buffer circuitry that confidently drives the subsequent power amplifier stage.
Highly regulated power supply circuit
A highly stable, custom made EI-type power transformer and newly developed, large-capacity filter capacitors (10,000μFx 8) are combined in the power supply unit, which provides instantaneous current supply and voltage stability, easily meeting the demands of dynamic music reproduced through capable speakers.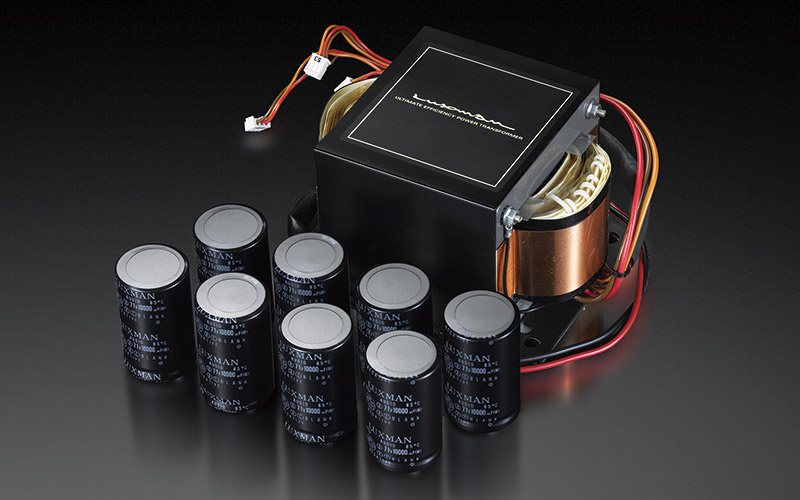 Various functions, switching and controls
The L-507Z features a variety of functions, such as the built-in, newly developed MM/MC compatible phono amplifier circuit that supports high-quality analog playback. Sensitive tone controls, L balance control and a loudness function are convenient for sound quality adjustments. The separate function uncouples the pre and power amplification system and a new mute button has been added to the front panel.
Newly designed parallel headphone outputs
In addition to the standard φ6.3mm output, a new φ4.4mm output has been added, with independent left and right ground wiring that greatly improves L-R separation for the listener who wants to enjoy truly three-dimensional sound.
Rated output
110W+110W(8Ω)
220W+220W(4Ω)
Input sensitivity/
input impedance
PHONO(MM): 2.5mV / 47kΩ
PHONO(MC ): 0.3mV / 100Ω
LINE: 180mV / 47kΩ
BAL.LINE: 180mV / 79kΩ
MAIN IN: 1.05V / 47kΩ
Output voltage
PRE OUT: 1V
Frequency response
PHONO: 20Hz to 20kHz (±0.5dB)
LINE: 20Hz to 100kHz (within -3dB)
Total harmonic distortion
0.007% or less (8Ω, 1kHz)
0.03% or less (8Ω, 20Hz to 20kHz)
S/N ratio (IHF-A)
PHONO (MM): 91dB or more
PHONO (MC): 75dB or more
LINE: 105dB or more
Volume adjustment
New LECUA1000
Amplification feedback circuit
LIFES 1.0
Output configuration
Bipolar 3-parallel push-pull
Damping factor
300
Max. amount of tone control
BASS: ±8dB at 100Hz
TREBLE: ±8dB at 10kHz
Power supply
230V~(50Hz) / 115V~(60Hz)
Power consumption
350W
886W (under no signal), 0.4W (at standby)
External dimensions
440(W) x 178(H) x 454(D) mm
front side knob of 20mm and rear side terminal
of 27mm included in depth
Net weight
25.4kg (main unit)
Accessories
Remote control (RA-17A)
Power cable
Speaker terminal
Supported Y-lug terminal
dimension

Width of part a: 15mm or less
Width of part b: 8mm or more
* Connection may not be performed
depending on the shape of the
Y-lug terminal.