Description
Performance Optical Graphite
QED's multi-award winning Toslink Optical digital audio cable
The award winning Performance Graphite Optical cable allows you to experience superior sound quality when connecting DAC's, TVs, CD players and Blu-rayTM players to amplifiers or receivers. Performance Optical uses a polymethyl methacrylate (PMMA) acrylic glass optical fibre to comfortably transmit the higher bandwidth signals demanded by today's multi-channel digital audio links. The cable is optimised for a 'very low jitter' design to reduce digital errors, making for a cleaner audio data transmission. Here at QED we are so confident about the performance of our product that we offer a lifetime guarantee.
FEATURES AND BENEFITS
Polymethyl Methacrylate (PMMA) acrylic glass optical fibre
This new optical fibre boasts half the signal attenuation per metre of the previous Performance model, which means 'Performance Graphite' comfortably transmits the higher bandwidth signals for multi channel audio. For HD multi channel audio applications (over 12MHz) please see our
Reference Optical Quartz
cable


Very Low Jitter Design
At QED we have identified jitter or distortions caused by errors in the light transmission as a major factor in the deterioration of the audio signal. By incorporating precision cladding techniques jitter is reduced enabling a cleaner signal with better dynamics and a wider sound stage.
Very Low Loss

Very Low loss < 0.15dB attenuation per metre
Specifications
Plastic Optical Fibre (POF) core of acrylic glass


Stepped refractive index


Fluorinated Polymer Cladding Material

24K gold plated Toslink connectors

Precision engineered plug with

integrated grip

Attenuation < 0.15dB/m (650nm)

Numerical Aperture 0.5

Minimum bend radius 9 mm

QED Lifetime Guarantee

CABLES MATTER

The new, award winning 'Performance Graphite' Optical cable utilises the superior PMMA acrylic glass optical fibre previously only available in our 'Reference' range products.
The new optical fibre boasts half the signal attenuation per metre of the previous model, which means 'Performance Graphite comfortably transmits the higher bandwidth signals demanded by today's multi-channel digital audio links.
The cable features a stepped refractive index core that together with precision cladding techniques minimises light absorption and modal dispersion of single mode optical signals at the fibre boundary.
This reduces the angle of incidence at which total internal reflection occurs so that more rays can propagate along the cable, which in turn makes for decreased jitter and improved audio data transmission.
OVERALL PERFORMANCE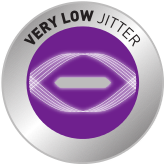 Very Low Jitter
Jitter is the undesired deviation from true periodicity of an assumed periodic signal in electronics and telecommunications, often in relation to a reference clock source. A cable displaying very low jitter has been measured at
typically 50ps.
Order and Delivery Information
Thank you for considering Yorkshire AV for your next investment in your AV setup.
We are an approved retailer for all brands sold on our website, which means full manufacturers warranty and support as well as detailed product knowledge within our small business.
We use an inventory tracking system which states if item(s) are in stock and if not, what are the likely lead times.
Selecting "Next Day" delivery does not mean you'll receive your item the next day in some cases. It's the next day from when the item(s) are in stock with us. If there is an urgent need then please contact a member of staff via the Live Chat or telephone (01757 826111) to check on live stock levels.
Certain product(s) are delayed in manufacturing due to semi-conductor shortages across the Globe. We'll keep you informed as to your order progress and a likely ETA once we get updates from the manufacturers.
When will orders be dispatched?
Orders placed Monday - Thursday before 2pm and are in stock will be dispatched the same day for next day delivery. This relates to product that state '

In Stock for immediate dispatch

' on the product page.
Orders placed on after 2pm on Thursday or on Friday will be dispatched for delivery on Monday unless Saturday delivery is selected.
Orders placed over a weekend

and are in stock 

will be dispatched on Monday.
Orders for items not in stock
Given the vast amount of variations of each product (e.g. AudioQuest cables) or Pro-Ject Audio Turntables - we keep the most common options in stock (i.e. gloss black finish, or 1.5m RCA cables) whereas longer cables or cables with terminations that are less frequently ordered will be ordered as required.
Generally speaking - we receive orders within 2-3 days for UK suppliers and 3-4 days for European suppliers (i.e. AudioQuest, DALI).
We want you to be 100% satisfied which is why we'll give you an email/call if item(s) aren't in stock and give you the option of changing the order, cancelling or if you're happy to wait a few days, we'll get it out as soon as possible.
If an item states 'Available to order' - this means the item is not in stock but we are able to order in. Lead times average 2 days but in some circumstances, delivery times may be longer and is outside of our control. Please contact us to get an estimate on delivery times if orders are urgent.
Who do you use for delivery?
Our primary delivery agent is DHL. Where orders are shipped directly from Yorkshire AV, we always use DHL who offer a fabulous service at competitive rates.
If we drop ship (i.e. direct from the supplier) then the delivery agent is out of our control. It is generally DPD or UPS however - we rarely see other carriers used.
As always - we welcome a conversation about your requirements and will always explore all options to connect you with the right solution.
Payment & Security
Your payment information is processed securely. We do not store credit card details nor have access to your credit card information.