Description
Reference Digital Audio 40
Reference Digital Audio 40, the new standard for digital coaxial S/PDIF signals.
Reference Digital Audio 40 utilises a carefully engineered geometry to achieve the precise characteristic impedance required for the maximum transfer of S/PDIF signals. Silver plated conductors deliver a low resistance path for high frequencies and QED "Digiloc" plugs more closely match the cable's characteristic  impedance, reducing return loss by up to 1dB when compared to conventional RCA plugs. This ensures optimal signal transfer and improved micro-timing of the audio signal.
FEATURES AND BENEFITS
Just Listen
Silver plated signal carriers, effective high quality shielding and impedance matched cordage and plugs all combine to create audible sonic improvements when compared to the competition
Triple Layer Electromagnetic Shielding
Through the use of factory controlled geometry and low permittivity foamed polyethylene dielectrics, Reference Digital Audio 40 maintains the correct characteristic impedance to match the transmission line between digital source and sink precisely. This makes for a very low jitter signal transfer which, listening tests have shown, leads to clearly audible sonic improvements.
75 Ohm Impedance matched DigilocTM RCA plugs
Domestic S/PDIF interfaces use the traditional RCA phono connector which is not impedance matched to the 75 Ohm transmission line. This causes measurable insertion loss and an increase in jitter due to signal reflections at the connector boundaries. The all new Digiloc RCA plugs are more closely impedance matched than ever before and measurements have shown, reduce insertion loss by up to 1.2 dB compared to ordinary RCA plugs.
Triple Layer Electromagnetic Shielding
A dual layer closely woven 99.999% OFC shield braid and aluminium mylar wrap with 100% coverage comprise a triple layer electromagnetic shield coaxially spaced around the central signal carrier within a foamed polyethylene dielectric. This ensures that interference signals induced by nearby high current noise sources do not contribute to higher signal jitter than would otherwise be the case. By the same token the shielding prevents unwanted voltage induced interference escaping the cable which might affect nearby analogue signal carriers.
Specifications
Silver Plated 99.999% Oxygen Free Copper central conductor
Extruded foamed Polyethylene (PE) dielectric - for sonic purity and low return loss
Double 99.999% OFC braid plus Al/Mylar wrap for 100% electromagnetic screening coverage
Twin leaf 24c Gold plated QED 'Digiloc™' RCA plugs featuring high purity copper contacts, hollow centre pin and low eddy current design
75 ohm coaxial design with closely matched locking plug for reduced return loss
QED Lifetime Guarantee
OVERALL PERFORMANCE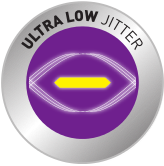 Ultra Low Jitter
Jitter is the undesired deviation from true periodicity of an assumed periodic signal in electronics and telecommunications, often in relation to a reference clock source. A cable displaying ultra low jitter has been measured at
typically 30ps.
Thank you for considering Yorkshire AV for your next investment in your AV setup.
We are an approved retailer for all brands sold on our website, which means full manufacturers warranty and support as well as detailed product knowledge within our small business.
We use an inventory tracking system which states if item(s) are in stock and if not, what are the likely lead times.
Selecting "Next Day" delivery does not mean you'll receive your item the next day in some cases. It's the next day from when the item(s) are in stock with us. If there is an urgent need then please contact a member of staff via the Live Chat or telephone (01757 826111) to check on live stock levels.
We do ask for some patience during lockdown - we're working remotely from home and travel to the warehouse each day to fulfil orders. If item's aren't in stock - we can usually get them within a couple of days.
We're a small business that's been impacted massively due to COVID-19 and have such had a significant reduction in orders. We're focussing on core products and services with less frequent products being ordered "on demand".
When will orders be dispatched?
Orders placed Monday - Thursday before 2pm and are in stock will be dispatched the same day for next day delivery. This relates to product that state '

In Stock for immediate dispatch

' on the product page.
Orders placed on after 2pm on Thursday or on Friday will be dispatched for delivery on Monday unless Saturday delivery is selected.
Orders placed over a weekend

and are in stock 

will be dispatched on Monday.
Orders for items not in stock
Given the vast amount of variations of each product (e.g. AudioQuest cables) or Pro-Ject Audio Turntables - we keep the most common options in stock (i.e. gloss black finish, or 1.5m RCA cables) whereas longer cables or cables with terminations that are less frequently ordered will be ordered as required.
Generally speaking - we receive orders within 2-3 days for UK suppliers and 3-4 days for European suppliers (i.e. AudioQuest, DALI).
We want you to be 100% satisfied which is why we'll give you an email/call if item(s) aren't in stock and give you the option of changing the order, cancelling or if you're happy to wait a few days, we'll get it out as soon as possible.
If an item states 'Available to order. Usually dispatched within 48 hours' - this means the item is not in stock but we are able to order in. Lead times average 2 days but in some circumstances, delivery times may be longer and is outside of our control. Please contact us to get an estimate on delivery times if orders are urgent.
Who do you use for delivery?
Our primary delivery agent is DHL. Where orders are shipped directly from Yorkshire AV, we always use DHL who offer a fabulous service at competitive rates.
If we drop ship (i.e. direct from the supplier) then the delivery agent is out of our control. It is generally DPD or UPS however - we rarely see other carriers used.
As always - we welcome a conversation about your requirements and will always explore all options to connect you with the right solution.
Payment & Security
Your payment information is processed securely. We do not store credit card details nor have access to your credit card information.