QED
QED Reference Optical Quartz 1m
2 in stock, ready to ship
Pickup available at The Barn
Usually ready in 24 hours
Shipping & Returns

Thank you for considering Yorkshire AV for your next investment in your AV or HiFi setup.

We are an approved retailer for all brands sold on our website, which means full manufacturers warranty and support as well as detailed product knowledge within our small business.

We use an inventory tracking system which states if item(s) are in stock and if not, what are the likely lead times.

Who do you use for delivery?

Our primary delivery agent is DPD. Where orders are shipped directly from Yorkshire AV, we always use DPD who offer a fabulous service at competitive rates.

If we drop ship (i.e. direct from the supplier) then the delivery agent is out of our control. It is generally DPD or UPS however - we rarely see other carriers used.

Selecting "Next Day" delivery does not mean you'll receive your item the next day in some cases. It's the next day from when the item(s) are in stock with us. If there is an urgent need then please contact a member of staff via the Live Chat or telephone (01757 826111) to check on live stock levels.

Certain product(s) are delayed in manufacturing due to semi-conductor shortages across the Globe. We'll keep you informed as to your order progress and a likely ETA once we get updates from the manufacturers.
Stock Information

When will orders be dispatched?

Orders placed Monday - Thursday before 1pm and are in stock will be dispatched the same day for next day delivery. This relates to product that state 'In Stock for immediate dispatch' on the product page.
Orders placed over a weekend and are in stock will be dispatched on Monday.

Orders for items not in stock

Given the vast amount of variations of each product (e.g. AudioQuest cables) or Pro-Ject Audio Turntables - we keep the most common options in stock (i.e. gloss black finish, or 1.5m RCA cables) whereas longer cables or cables with terminations that are less frequently ordered will be ordered as required.

Generally speaking - we receive orders within 2-3 days for UK suppliers and 3-4 days for European suppliers (i.e. AudioQuest, DALI).

We want you to be 100% satisfied which is why we'll give you an email/call if item(s) aren't in stock and give you the option of changing the order, cancelling or if you're happy to wait a few days, we'll get it out as soon as possible.

If an item states 'Available to Order' - this means the item is not in stock but we are able to order in. Lead times average 2 days but in some circumstances, delivery times may be longer and is outside of our control. Please contact us to get an estimate on delivery times if orders are urgent. 

As always - we welcome a conversation about your requirements and will always explore all options to connect you with the right solution.
Warranty

Warranty

By default, our brands follow their standard manufacturers warranty terms and length.

For extended Warranty (should this be offered with your product), please ensure you complete the Extended Warranty registration form that was emailed to you.

Warranty claims within the warranty period are underpinned by the manufacturer. With any extended warranty claims - Yorkshire AV act as your agent to the authorised repair centre.

Shipping charges are excluded from any warranty claim. Original packaging and receipts must be provided else the claim will be rejected.

For any questions or issues - please contact us directly.

Returns

Standard Returns 

Our returns policy lasts for 28 days for all items in our store except those defined in section (1) below.

To be eligible for a refund, your item must be unused/unopened and in the same condition that you received it. It must also be in the original packaging. If you return the item to us within 14 days of purchasing, you will be offered a full refund or exchange.

If your return comes to us after 14 days of purchasing and is opened, we will refund the full amount less 20%. Unused items returned up to 28 days after purchasing will be fully refunded.

It's the responsibility of the customer to return the items at your cost.

Yorkshire AV are able to arrange collection - please contact us for a quote.

You must ensure goods are shipped in their original packaging if they are damaged/not working.

Manufacturers will not accept returns and Yorkshire AV can not be held responsible for any damage in transit.

Several types of goods are exempt from being returned.

(1) Examples of non-returnable items: 

Gift cards HiFi RacksSecond hand units / clearance products

Headphones (due to listener hygiene)

Custom cables

Special order items (items that we order in for you/were not in stock at the time of order)

To complete your return, we require a receipt or proof of purchase. 

Please do not send your purchase back to the manufacturer. 
Finance

Financing your purchase

We've got you covered, as we have finance options available for people with varying circumstances. Yorkshire AV believes that you shouldn't have to pinch your pockets to be able to purchase our products. You can pay in affordable monthly instalments to better suit your needs and budget.

To help you purchase from Yorkshire AV, we have partnered with Kandoo, a regulated credit broker to offer all our customers a range of highly flexible finance options. Kandoo is a comparison service that searches to find you the best Personal Loan option that's right for you.
Reference Optical Quartz
QED's superior Toslink Optical digital audio interconnect cable made with real glass
Reference Optical Quartz is the first of its kind, consisting of 210 separate boro-silicate glass fibres. The cable allows you to experience stunning sound when connecting DACs, TV's, CD players and Blu-Ray players to amplifiers or receivers because it has a much higher bandwidth and only 1/10th of the attenuation of traditional acrylic fibres. Reference Optical Quartz vastly exceeds the demands for high definition multi-channel digital audio with a bandwidth of over 150MHz which is totally unaffected by bending the cable.
FEATURES AND BENEFITS
GLASSCORE TECHNOLOGY
QED's new Glasscore™ technology employs multiple fibre bundles of ultra-fine boro-silicate glass optical fibres (GOF) of no more than 50um each to make up the 1 mm diameter necessary to conform to the Toslink standard connectors. Because the fibres are so small the different paths taken by the light rays are similar in length virtually eliminating the timing error and introducing less distortion and jitter. This has the effect of increasing bandwidth and the accuracy of the data transmission.
STEPPED REFRACTIVE INDEX
The quartz fibres are coated with a cladding of low Refractive Index to guide the light signal.
Over 150MHz BANDWIDTH
This vastly exceeds the demands for high definition multi-channel HD digital audio. In contrast to conventional acrylic glass optical cables quartz glass cables can deliver signals up to and including 24bit/192kHz with very low jitter .
Reference Optical Quartz can provide a much higher bandwidth than a single acrylic glass fibre with 1/10th of the attenuation.
ULTRA LOW JITTER / ULTRA LOW LOSS

QED have calculated that jitter (distortions caused by timing differences between the different light paths) in conventional optical cables could typically reach up to 145ps. In Reference Optical Quartz, timing errors are virtually eliminated, introducing less distortion, jitter and ultra low loss < 0.03 dB/m.
SPECIFICATIONS
Unique boro-silicate glass construction

Highly flexible 210 x 50 micron optical fibre bundle
Bandwidth >150MHz
Ultra low jitter
Stepped refractive index
Ultra low loss < 0.03 dB/m
24 & 32 bit high resolution audio compatible.
QED Lifetime Guarantee
CABLES MATTER
Digital Optical Audio cables are now used widely to connect audio source equipment such as TV's, CD players and Blu-Ray players to amplifiers or receivers. There are many advantages to using the optical output from your source equipment. The optical output provides complete electrical isolation between equipment eliminating ground loops and noise induced by large external voltages or currents. With fast digital signalling using twisted pair copper cables, problems such as near end crosstalk can cause distortion of the signal; these problems are eliminated by using the digital optical connection option.

Because of the very short distances and relatively slow data signalling speeds of the Toslink system it is possible to use very inexpensive plastic optical fibres (POF) made of an acrylic glass material known as PMMA (Polymethyl-methacrylate). These are usually 1 mm in diameter to fit the Toslink connector and of course their extra width only exacerbates the time smearing or jitter caused by the multi-modes within the fibre. Calculations have shown that a typical 1m cable with a PMMA fibre of refractive index 1.5 and a critical angle of 76 degrees has the potential to introduce jitter
of up to 145ps into the SPDIF signal. These plastic optical fibres (POF) account for virtually all commercially available Digital Optical Audio cables available today.

The alternative to this situation adopted by QED in our new Glasscore™ technology cable is to employ multiple fibre bundles of ultra-fine boro-silicate glass optical fibres (GOF) of no more than 50um each (thinner than a human hair see below) to make up the 1 mm diameter necessary to conform to the Toslink standard connectors. In the new QED Reference Optical Quartz cable there are 210 such fibres each of which guide the light along a much tighter path making the different modes much more uniform than in the larger diameter single fibres.

Because the range of angles of incidence at which the light is accepted at the aperture of the cable is smaller and the critical angle of internal reflection in the glass is larger than in POF fibres the range of different paths taken by the light is reduced. In this way short data pulses are no longer artificially elongated or smeared by the physical process of travelling along the cable.

GLASSCORE™
Each fibre is thinner than a human hair. 210 fibres of 50um each are required to make
up the 1 mm diameter necessary to conform to the Toslink standard connectors.
COMPARING TECHNOLOGIES
PMMA OPTICAL FIBRES
A typical optical fibre is made of an acrylic glass material known as PMMA (Polymethyl-methacrylate). This acrylic core allows the light to take many different length paths through it. Timing differences are introduced - accounting for typically up to 145ps of Jitter.

Signal losses also occur when light is incident above the Critical Angle and is not reflected back (Yellow).
REFERENCE OPTICAL QUARTZ
Reference Optical Quartz has in excess of 210 Glasscore™ fibres each thinner than a human hair. This ensures ultra low jitter because the smaller numerical aperture reduces the range of angles of acceptance leading to straighter signal paths.


OVERALL PERFORMANCE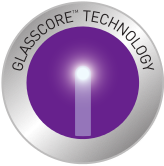 Glasscore™ Technology
Instead of using traditional low performance polymethyl methacrylate (PMMA) plastic optical fibres (POF) which come as a single 1 mm OD fibre the cable incorporates 210+ boro-silcate glass optical fibres (GOF) which give improved jitter performance and higher bandwidth capability. 24 & 32 bit high resolution audio compatible.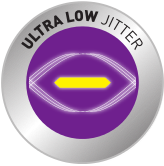 Ultra Low Jitter
Jitter is the undesired deviation from true periodicity of an assumed periodic signal in electronics and telecommunications, often in relation to a reference clock source. A cable displaying ultra low jitter has been measured at
typically 30ps.